Products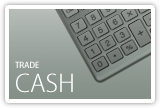 TRADE CASH: Financial Cloud Computing
Accounting for the International Logistics Industry
TRADE CASH is an integrated logistics accounting solution. This cloud-based product is designed for the international forwarding and logistics industry to handle shipment accounting data for both the origin and destination, flowing from desk level input to corporate level financials. This integration of operations and accounting streamlines the Accounts Payable and Accounts Receivable processes and provides a high level of visibility from booking shipment to billing to payment.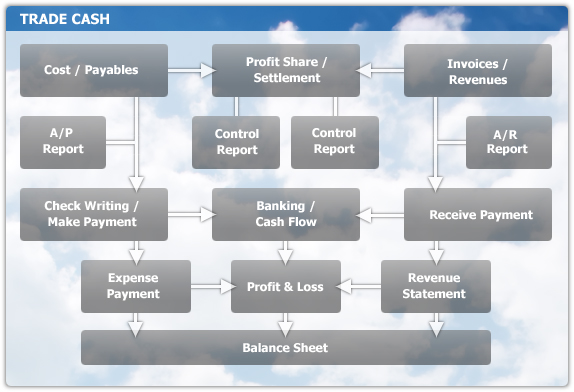 Desk Level Accounting
Desk Level Accounting allows for the Trade Manager users to record shipment level income and expenses associated with each file by directly invoicing customers and protecting costs. This allows the user to quickly see total profitability of the shipment and confirm billing has been completed properly. In the cloud-based collaborative work environment billing items can easily be marked for profit split to quickly and effectively allocate profit share between the stations involved on the shipment. Multiple profit centers may be associated with each shipment to properly record the billing associated to each station and provide a complete view of the file's profitability.
Global Margin Report
International logistics is a field where margins are tight and the flow of money is large. One forgotten invoice or one unanticipated cost can have a significant impact on your business. Trade Cash, developed by Logistics, NVOCC, and Shipping Line experts, is a cloud computing financial system for the logistics industry. We'll show you how your money is working for you, track every cash flow involved in every shipment, and demonstrate how you can maximize profits by analyzing the profit margins of every shipment through the Global Margin Report. This managerial tool allows you to quickly identify shipments that have not been invoiced completely, where costs have not been protected and highlight areas you are most successful. Effectively utilizing the Global Margin Report will ensure timely billing and better business practices.
Corporate Level
Revenue and Expense: All of the billing input at the desk level seamlessly flows into the corporate level accounting. The Revenue and Expense modules allow for AP and AR aging reports, making and receiving payment, invoice and cost reports and more. In addition to tracking the shipment level transactions Trade Cash allows for the input of non-shipment payables and receivables in order to completely track all accounting transactions.
Banking: Module tracking all payments, receipts, and deposits for your bank accounts. Group deposits and perform check runs to save time. Complete bank reconciliation when receiving bank statements to further audit tracking of payments and deposits.
Financial Reports: Trade Cash includes comprehensive financial reports such as Income Statement, Balance Sheet, Trial Balance, Activity Report and Journal Listings. These reports are dynamically customizable to be run on multiple tiers of detail to suit your reporting needs. Easily view the profitability of the company as a whole, individual profit centers or focus on a particular product. Trade Cash tracks several key segments per transaction in order for you to know exactly how all aspects of your business are performing.
Revenue Recognition: Trade Cash's unique accrual methodology solves problems logistics providers face when accruing costs and revenues for a shipment that stretches over multiple months or multiple accounting periods. Trade Cash ensures that all revenue and costs for a shipment are accounted for in the correct accounting period.
Request a Demo

»
Tweet