Trade Tech Announces New Portal AES Filing Capabilities
Leading logistics solution provider updates cloud-based portal to enable shippers to submit required U.S. Customs and Border Protection export filing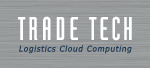 Media Contact:
Laura Asendio
DPR Group, Inc.
(240) 686-1000
lasendio@dprgroup.com
ISSAQUAH, Wash. – February 24, 2017 – Trade Tech, a global leader in cloud-based solutions for the international shipping and logistics industry, announces a new update to its centralized cloud-based portal, Syrinx™ e-Shipping Portal (Syrinx), which enables exporters to electronically submit Automated Export System (AES) filings. Syrinx provides a significant increase in productivity by providing the user with an easy-to-use interface for managing export shipments while allowing the user to report the same data to CBP and Census for AES.
"We believe data should never be keyed more than once for any shipment all the way from origin to destination", says Bryn Heimbeck, CEO and co-Founder of Trade Tech. "Transportation software should make managing shipments easier and that starts with reducing the number of times that data has to be re-key stroked. We estimate that the industry re-keys the same data between 8-15 times in the course of a single shipment. Data should be entered in a system once as part of the process of setting up and managing the shipment and then the data should be fed to all other major players rather than being re-keyed in separate portals."
Using Syrinx provides shippers with the following benefits:
• Allows filers to create AES filings using proper data fields via web data entry or electronic message.
• Validates filings and provides confirmation with internal transaction number (ITN) once the filing has been fulfilled. Confirmation with ITN number can be given to terminal operators.
• Reduces data entry time and risk of data entry errors.
• Meets AES filing data retention requirements.
In addition, Syrinx increases overall operation visibility and productivity by enabling management of all security filings in one environment. The filer can submit AES in addition to Automated Manifest System (AMS) filings, Importer Security Filings (ISF), Japan Customs Advance Filing Rules (AFR), Canada Advance Commercial Information (ACI) and Canada eManifest.
For More Information
Trade Tech co-founder and CEO Bryn Heimbeck is available for interviews and can discuss changes and trends in the shipping industry. To learn more about Trade Tech's Syrinx e-Shipping Portal, schedule a free demo today.
About Trade Tech
Founded in 1997, Trade Tech is a major provider of transportation management, supply chain and security filing solutions to the freight forwarder community. Trade Tech applications link shippers, importers, Customs House Brokers, consignees, non-vessel operating common carriers (NVOCC), carriers, truckers, warehouses and forwarders, and provide visibility of the movement of goods throughout the supply chain. Trade Tech clients enjoy access to the latest applications and data through the Trade Tech cloud-based application every time they log on to the Trade Tech network – without any software downloads or server set ups. For more information, please visit: http://www.tradetech.net/.
# # #